Barr. Sam. Otoboeze CPP.
  FROM THE PRESIDENT'S DESK
This maiden edition of  the BSOF Quarterly Newsletter is another important landmark  of the Foundation since it's formal  birth more than 10 years ago. The Foundation which started as a pet Charity project to mark my graduation in 1989, has gradually metamorphosed into a major Non- Governmental Organization in Nigeria, with very remarkable presence and testimonial projects spread across the country.

The secret  behind the success of BSOF  has remained the ability to live out its mission of Giving hope to the hopeless and its mantra; Sam. O Foundation…where,here,there and everywhere! BSOF has been truly there and everywhere in the education of indigent pupils and students across the country; sheltering the widows and aged, providing artificial limbs to amputees, providing skill training for the youths, and palliatives to the under-privileged across the states of Nigeria.

All these would not have been possible without the active support  of the Board of Trustees, Management and members of the Foundations in Abuja, Lagos, Port Harcourt and Enugu branches.

I wish you happy reading and will appreciate your comments and further contributions.

Barr. Sam. Otoboeze, CPP. 
   BOARD OF TRUSTEES
The Board of Trustees are highly respected and trusted personalities who have supported the foundation morally in realizing its dreams and this has
revolutionized the foundation to its present credible level.
1. Mrs. Uchenna Otoboeze                        4.Barr.G.O Okafor OON, SAN     
     (BSOF Vice President)                                                      (Member)
2. Rev Father Eva C. Nnaneme                        5.HRH Igwe Christian Eze 
                 (Member)                                                                  (Member)
3. Prof. Ngozi Ada Ejionueme                 6. Prof. Isife  ( UniPort)
(Member)                                                                  (Member)
A time for hope
Giving hope to the hopeless
In the last several months, the world has seen a progressive rise in public health emergencies, leading to an increased need for humanitarian aid and relief. A lot of people have been through several difficult situations all over the world.
Nigeria not being left out has also suffered from the scourge of food crises caused by poverty.
Have you ever imagined a time when everyone can meet their needs without having to be financially challenged or dependent on anyone dependent on anyone, BSOF finds fulfillment in giving hope to the hopeless.
Project Hope: Palliative distribution
programme to the less privileged to cushion the effects of Covid-19

Palliative distribution at a physically challenged community, Karmajiji in Abuja FCT.
"Hope is important because it can make the present moment less difficult to bear.
If we believe that tomorrow will be better, we can bear a hardship today. We must accept finite disappointment, but never loose finite hope"
-Martin Luther King Jr.
Project Hope palliative care provided relief materials to over 1000 daily income earners in the poorest communities across several states in Nigeria: FCT, Enugu, Ibadan, Port Harcourt, and Lagos.

a) In Port Harcourt, on the 15th of April, BSOF members generously donated large relief materials to a group of widows, aged people and provided scholarship to a particular young boy whose family had just suffered a tragedy after the
bread- winner the mother a (plantain seller) was brutally murdered by unknown people in the farm, while she had gone to get plantain for her business.
 She died leaving behind a critically sick and disabled husband and her
four children. Moved to compassion by their story, the BSOF President
immediately offered the first son full scholarship to continue his education.
b) On the 1st of May 2020 in a remote community in Abuja called Karmajiji, deep in the community a settlement of people living with disabilities (PLWD) were visited. BSOF teams carried out distribution of the palliatives to the disabled
 c) A similar event was conducted in Ibadan and Lagos States respectively where a cross-section of over 400 women, men and some youths received palliatives to help alleviate their sufferings.

d) Enugu state carried out a palliative outreach to an  orphanage as well. Food items and other relief materials were distributed to over 300 children. They were also sensitized on the need to maintain personal hygiene guidelines as proper hand washing techniques were thought in a bid to curb the spread and infection of COVID-19.
2019: Annual BSOF Event-
IYEP Beneficiaries
Over the years for the last decade, the Barrister Sam Otoboeze Foundation has
held an annual event where thousands of people from all over the country gather to celebrate and at the same time, extend their benevolence and goodwill
by impacting the lives of people living in Ochima community as well as it's surrounding communities.
BSOF is an organization that is in direct response to the growing number of rural youths and the disabled that has lost hope in the system or themselves.
Inclusive Youth and Entrepreneurship Programme (IYEP) was targeted towards eradicating extreme poverty, especially in the rural communities by
reducing poverty among men and women in the rural communities.
After an extremely rigorous selection process three finalists emerged as winners/ beneficiaries of the programme.

Lets meet our beneficiaries:

IFEANYI CHUKWURAH- IFYMOTO
Ifymoto is an agro- based processing company focused on solving the problems of perishables food glut, post-harvest losses, food wastage, unemployment and poverty by increasing the shelf-life of perishable food commodities in order to achieve food security while making room for farmers to increase their productivity/incomes and creating opportunities for job creation. This beneficiary won the first prize of N500,000


OGUNSEYE BABATUNE- AGRIMAX
AGRIMAX is committed to provide unquestionable, adaptable and cost-efficient alternative sources of animal protein for meal and feed to keep a sustainable framework, we breed high quality insects in dependable yields.
This beneficiary won N300,000
Products:
Magg meal
Magg Oil
Magg humus
ERIC NYIKWAGH—AGRIWAVES TV
Agriwaves TV (ATV) is a digital television that provides information on innovations and opportunities in the food and agriculture industry. 
ATV connects farmers, value chain actors and the public.
ATV is available online as a YouTube channel, mobile app and website. He won N100,000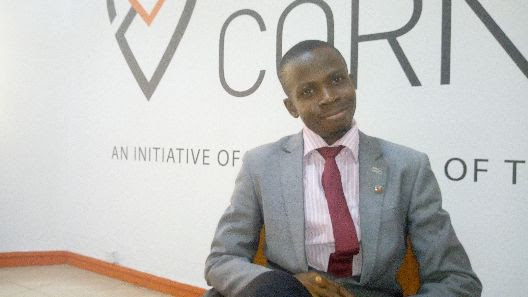 TESTIMONIES FROM BSOF BENEFICIARIES
Dear Sir,
I want to sincerely express my gratitude to BSOF for deeming it fit to present me an award. I make no light of it. It is a pleasure and indeed an honour to hear once again from the Barrister Sam Otoboeze Foundation.
So far, I have added two more product lines to my production portfolio; namely
Processed chilli pepper and
BSF larvae (an alternative protein solution for livestock farmers) in addition to my processed habanero pepper.
I have also employed over six direct and indirect staff in the last six months. In addition, recently I distributed free facemasks to mitigate and help prevent the spread of COVID-19 pandemic.
Also, I have been nominated among the top 25 innovators in Africa for the Next Einstein Forum (NEF) organized by the African Institute for Mathematical Sciences (AIMS) who are billed to showcase their businesses at the Global Gathering of the NEF in Nairobi, Kenya later this year.
 
In addition, my business is currently being incubated by at the Orange Corners Nigeria (OCN) Business Incubation Program, which is being funded by the Government of Netherlands and implemented by FATE Foundation
My challenges however, are supply chain problem owing to COVID-19 pandemic but I'm well positioned to reinvent myself, and business Post- COVID.
IfeanyiChukwurah, BSOFBeneficiary for IYEP 2019.