WELCOME ADDRESS BY THE PRESIDENT OF BARR. SAM OTOBOEZE FOUNDATION (BSOF) DURING THE ANNUAL SCHOLARSHIPS AWARD AND POVERTY ALLEVIATION CEREMONY ON 19th DECEMBER, 2020
On behalf of the members and Board of Trustees of BSOF, I wish to heartily the distinguished Chairman ofthis occasion, Sir (Dr) Mike Mbama Okiro CFR,NPM,mni, KSJ, IGP (Rtd) and the Ohamadike of Ibagwa Nike Kingdom. It is also my great pleasure to specially welcome the Chief Special Guest of Honour, His Excellency, Rt. Hon. Ifeanyi Ugwuanyi (Gburugburu), the Executive Governor of Enugu State; Chief (Hon)Nnia Nwodo, Ike Ukehe and the President-General of Ohaneze Ndigbo; and all other distinguished guests, especially the Royal Father of the Day, HRH Hyacinth Chiwerete Ugwuogbuke and other Royal Fathers here present, the servants of God, the Honourables, great Captains of industries and other institutions, and all the gentle ladies and men, who left other very important engagements to attend this 11th edition of BSOF Annual Scholarships Award and Poverty Alleviation program, with the theme: Empowering the Youth and Less Privileged to Shape Nigeria Future.
For sustained impact and change of paradigm, to secure the society, BSOF will continue to focus and seek partnership with organizations and individuals in the following areas:
Build a fit-for-purpose hostel for the People of Strength to enable them participate in the Skills Acquisition training at the Centre, as part of BSOF 360 programs for People Living with Disabilities.
Build hostel for the trainees to accommodate those coming from other communities and states
Build staff quarters for the Trainers and management staff
Build a modern conference hall for BSOF Annual Lectures and other activities, which are currently being carried out under canopies
Extend the Skills Acquisition Training and other programs to other rural communities in Nigeria
Continue to provide special rewards to diligent and dedicated teachers, and merit-based scholarships to public primary and secondary schools in the country
Continue to hunt for and develop special talents from the rural areas in the believe that an opportunity for one rural youth could transform the entire community and change the history of the family
And of course, to continue with our artificial limbs donation project, training of the youths and people of Strength in managing small scale businesses and monitoring/supervising the businesses of the recipients of the BSOF Start-up Capitals, among several other interventions to positively engage the minds of the vulnerable youths, women and other rural dwellers
To achieve these, we need your kind support in any way you prefer to partner with us to add value to the lives of the less privileged ones among us.
We will continue to count on you as we explore further opportunities to reposition the Foundation for the extension of its rural-based community activities and projects to other rural communities in Nigeria and beyond.
Barr. Sam. Chigozie Otoboeze, CPP, COHSM, FOSA-UK
PRESIDENT, BSOF
PROMOTING GRASSROOTS HEALTH INITIATIVES, AMIDST DWINDLING RESOURCES DURING COVID-19
Healthcare is a vital factor for the wellbeing of any given society. It is an essential component of a life of dignity. People languishing under diseases and illnesses can rarely hope for a high quality of life, and as we know, millions still suffer from largely preventable health issues.
Among major grassroots in Nigeria, several people suffer from poor healthcare, access to quality health centres and sensitization on several matters regarding their wellbeing and health. About 70% of Nigerians live in rural communities with little or no access to basic healthcare services. This population is mostly women and children, resulting in high maternal and infant mortality rates. Many communities in Nigeria travel long distances to access healthcare as most of the Primary Healthcare systems are no longer functioning. To address this, Barrister Sam Otoboeze Foundation, BSOF launched out its project on Free Medical Outreach for two days on the 18th and 19th of December, 2020. BSOF provided free basic healthcare services to a population of 578 people (men, women and the youths). The Medical outreach main focus was on men, women and children. Annually, about 25% of our relief materials and development projects have a significant health care component for the youths, women and children. You can find more information on our health care project, by following our website www.bsofoundation.org  and on all our social media platforms.
We have projects that deal on treatment or primary care, preventative measure, advocacy projects and so on.
BSOF strives to provide a healthy environment through community projects and outreaches, health promotions/ advocacy programmes for all the community/grass-root dwellers. On mental health promotion:
Caring for oneself and others
Making healthy decisions and taking control of one's life circumstance
Creating conditions that are conducive to health through policies, services, physical/social conditions
Building capacities for peace, shelter, education, food a stable income and sustainable development.
Healthcare and preventive services were provided in Ochima community for the individuals in and around the community to maintain their health and wellbeing. To assist in this purpose, make-shift health clinics provided several services aimed at educating the public on safety tips on prevention against COVID-19 and their personal health. Free consultations and drugs were administered to sick patients.
Picture 1.1 showing Dr. Obisike in the treatment area awaiting the patients to be attended to for the free medical outreach organized by BSOF. Dr. ObisikeObelu is the first Medical Doctor trained by BSOF. He devotes his time periodically to give back to the society by leading BSOF free Medical Outreach programs.
Fig 1.2     Patients queuing to be attended to by the team of medical experts led by Dr. Obisike.
EMPOWERING PEOPLE OF STRENGHT (PoS) IN RURAL COMMUNITIES TO BECOME SELF-RELIANT AND SUCCESSFUL ENTREPRENEURS
The People of Strength (PoS) otherwise also referred to as People with Disabilities (PwDs) are among Nigeria's most vulnerable community, who have enormous energy and strength but lacks the to opportunities and support to use their strength for their wellbeing, hence most of them survive through street begging for alms. The PoS generally have less access than others to education, health services, and sustainable livelihoods. About 74% of children with disabilities in Nigeria lack access to education, while 90% of grown adults of  working age persons with disabilities are unemployed
With Covid-19 pandemic widely spreading and shrinking businesses and creating harsher economic situation in Nigeria, the problems of the People of Strength have become aggravated. The business of street begging is no longer exclusively for the physically challenged. Unfortunately, while the number of street beggars in Nigeria is increasing exponentially, the population of alms givers is inversely dropping at the same high rate.
It was in an attempt to find solution to the worsening problems of the People of Strength that BSOF channelled more resources to empower not only the PoS but youths and women, who are increasingly joining the begging community. The Skills Acquisition program of Barr Sam Otoboeze Foundation has continued to strengthen and empower people of strength by increasing their entrepreneurship development skills and economic opportunities for self-sustenance, especially in the South-South, South-East , Northern and currently in the South –West States of Nigeria. BSOF free vocational skills training in bags making, beads-making, soap making, computer training has continued to incredibly restore hopes to the PoS, youths and women of Nigeria.
 BSOF ACTIVITIES IN THE LAST QUARTER
Conducted awareness training on the importance skill training for ….youths, PoS and women at Ochima in Igboetiti LGA of Enugu State
Sponsored youths, PoS and women vocational training in various skills including bag making, Tailoring and beads making, and donated food and other palliative materials to indigent rural women in Nigeria .
Donated Artificial limbs to over 40 persons in the North, East and South-South parts of Nigeria in the last quarter.
OTHER ACCOMPLISHMENTS
Identified and assessed the socio-economic situation of  6 PwDs and provided them with seed grants to start up their businesses
Enrolled 7 PwDs in vocational trainings, 5 of whom graduated and received small grants to establish businesses
Provided food items, safety material , face mask, hand sanitizers to over 400 PoS in Karmajiji community in the FCT
Conducted awareness/ sensitization sessions  on safety against COVI-19 for 400  PwDs  (196 males and 204 females.
Fig   1.3  Donation of food items to PoS from the North
Fig 1.4  A cross section of the Northern Nigeria beneficiaries from the BSOF End-of Year Artificial limbs support program before receiving the artificial limbs.
Fig. 1.5 A cross section of some Northern Nigeria beneficiaries from the BSOF End-of Year Artificial limbs support program after receiving the artificial limbs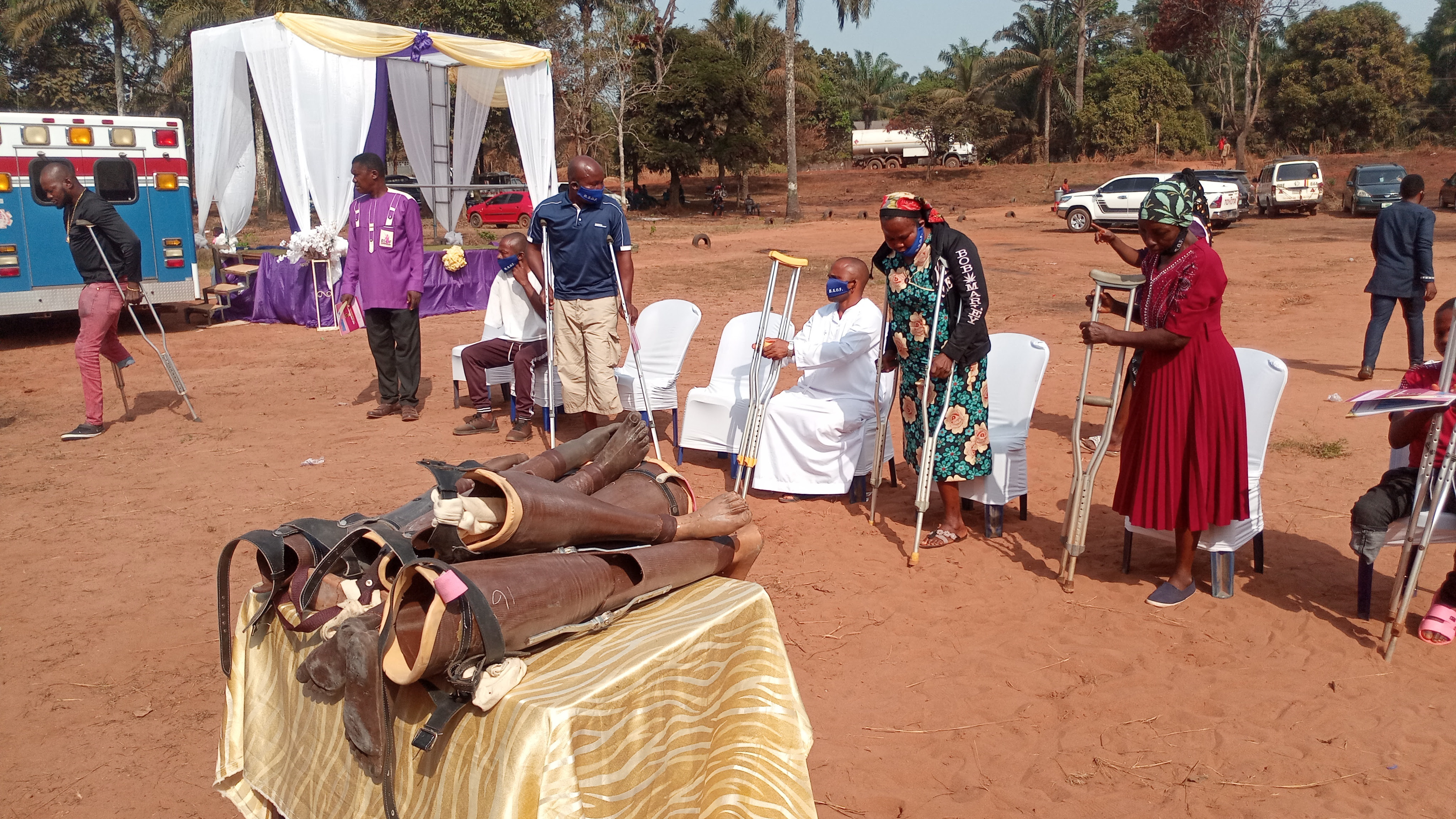 1.6  A cross-section of People of Strength from Enugu State getting ready to receive artificial limbs donation during the Dec. 2020 annual event of BSOF at Ochima.
 EDUCATION:  BSOF DONATES TEACHING AND LEARNING AIDS TO 6 STUDENTS IN PUBLIC SECONDARY SCHOOLS IN IGBO-ETITI LGA OF ENUGU STATE.
Considering the importance of education, especially as a way to improve living conditions of indigent families, BSOF provides various support to Nigerian students in local community schools. These include scholarship to specially gifted students, annual sports competitions, annual quiz competitions, donation of educational materials, among others.
As part of the 2020 annual event of the Foundation, Quiz competition was organized for ten(10) randomly selected public secondary schools located in the rural area of Igbo-etiti Local Government of Enugu State. The competition was used as a tool to select the next batch of scholarship awardees for 2021. At the end, BSOF offered scholarship to 6 best performing students, who lacked adequate school materials and found it difficult to pay their school fees. With these donations and the scholarships the beneficiaries are sure to complete their college education without any hindrance. Their performances in the school will certainly improve, while those who did not do well will draw inspiration from them. It also creates an opportunity for great and brighter future for them.
1.8 A cross-section of Secondary school scholarship awardees with materials donated to their schools by BSOF.
Fig 1.9 Students who represented ten (10)public Secondary Schools during the 2020 BSOF Quiz Competition at Ochima, Igboetiti LGA Enugu State.
There are several communities in Nigeria including Ochima with high illiteracy and school drop-out rate. This is due to many types of challenges being faced by several families due to their bad living conditions. Most of the community members make their living through farming and selling of some sort of vegetables, which they grow by themselves. This kind of economic activity gives them a very low income for their daily living. Parents are neither able to afford adequate school materials, nor pay their wards school fees.
BSOF's Solution
By providing the educational materials to these Public Schools poor students, BSOF will improve their opportunities in life and develop their study smoothly. Also, they will gain more confidence to attend school and start to enjoy learning. This project also helps and motivates students to attend school more regularly and step by step the high illiteracy and school drop-out will decrease.
Long-Term Impact
In the long run, by providing educational materials to support these Public Schools in Igbo-etiti Local Government Area of Enugu State, the over 10000 indigent students will have better access to quality education which in turn increases their opportunity for a higher level of education in their life. The high illiteracy and dropping out of school rate will decrease and their community can develop by having educated citizens. In this way, BSOF does not only make a difference for the individual families; more promising and brighter future is being created for the various rural communities in Nigeria
When the Foundation, took up the sponsoring of one young and highly brilliant child of a peasant farmer from a neighbouring community of Ukehe in Igbo-Etiti LGA, to study Medicine at the UNN few years back, it was never hoped by the parents that one day the boy would own one of the biggest medical centres in the Local Government.
Today, the story of both his family and community has changed!
Fig 1.10 A cross-section of students from different public secondary schools in Igbo-Etiti LGA present at the BSOF 2020 Quiz Competition.
BSOF PUBLIC LECTURE: EMPOWERING THE YOUTHS & LESS PRIVILEDGED TO SHAPE NIGERIA'S FUTURE
A major aspect of the Barrister Sam Otoboeze Foundation (BSOF) developments projects is in Skills Acquisition and advocacy towards acquiring vocational skills particularly amongst the youths, women and men.
In this regard, the last year's BSOF Annual event was themed, "Empowering the youths & Less privileged to shape Nigeria's future". Two prolific and renowned speakers of whom one Prof. Patrick Ngwu is currently a lecturer at the University of Nigeria, Nsukka (UNN), while the other facilitator was Dr.Okon Etim Okon, also a Snr Lecturer at the UNN
In attendance at the lecture, were a total of88 students from 10selected public secondary schools in Igbo-Etiti LGA,(17 women and men from different communities in Igbo-Etiti LGA. The public lecture was held at the nick of time, as there is a dire need for people to learn various entrepreneurship skills to support themselves especially in these times of huge economic challenges and serious unemployment and under-employment in the Country.
The facilitator reiterated the relevance of youths acquiring vocational skills to prepare them for the challenges of high unemployment and over dependence on government or white collar jobs. The training session was quite interactive and gave room for questions from the participants.
Fig 2.0  Barr Sam Otoboeze (left) Prof. Pat Ngwu (middle) a female guest (right)during the public lecture on the importance of skill training to the youths.
Fig 2.1 Mrs Mercy Odu ( Financial Director  BSOF, left), Barr. Sam Otoboeze (the President) second left) Dr. Okon Etim Okon (Lecturer at UNN) and the Quiz Panelist (right)
Fig  2.2  A cross- section of students and community members in attendance at the public lecture on Skills training programme.
TESTIMONIALS
"Not what we give, but what we share, for the gift without the giver is bare" Anonymous
Barrister Sam Otoboeze prides itself with the fact that her several grass root projects touch lives and gives hope to the hopeless, as was the story of Mrs. Mary Ugwuanyi from Umuagama, Essodo Ward Two, Igboeze North LGA . She is one of our recent beneficiaries of the artificial limbs donation in December, 2020. While the Director Special Duties (Hon. Emeka Abugu) was making transport arrangements for the already pre-selected people of strength who were meant to leave Enugu for Port Harcourt that fateful day for the Artificial limbs donations project in Port Harcourt where their limbs were to be produced and presented. Mrs. Mary Ugwuanyi came to the park to beg for alms and went on her normal business of begging for alms when she encountered the Director Special Duties and Projects as potential client whom to get pennies from for the day, but luck shone her way and he offered her more than just the pennies but artificial limbs, she could use to walk freely rather than the crutches she came begging with. She was put in the vehicle and transported to Port Harcourt with the other beneficiaries, where arrangements for their short stay accommodation, feeding had all been arranged by the BSOF Team.
During the BSOF Annual event on the 19th December, Mrs. Mary Ugwuanyi was moved to tears as she received the artificial limbs donation from the President of the Foundation.
Fig  2.3    Beneficiary: Mrs. Mary Ugwuanyi from Umuagama, Essodo Ward Two, Igboeze North LGA.