WELCOME ADDRESS BY THE PRESIDENT OF BARR. SAM OTOBOEZE FOUNDATION (BSOF) DURING THE ANNUAL SCHOLARSHIPS AWARD AND POVERTY ALLEVIATION CEREMONY ON 19th DECEMBER, 2020
On behalf of the members and Board of Trustees of BSOF, I wish to heartily the distinguished Chairman ofthis occasion, Sir (Dr) Mike Mbama Okiro CFR,NPM,mni, KSJ, IGP (Rtd) and the Ohamadike of Ibagwa Nike Kingdom. It is also my great pleasure to specially welcome the Chief Special Guest of Honour, His Excellency, Rt. Hon. Ifeanyi Ugwuanyi (Gburugburu), the Executive Governor of Enugu State; Chief (Hon)Nnia Nwodo, Ike Ukehe and the President-General of Ohaneze Ndigbo; and all other distinguished guests, especially the Royal Father of the Day, HRH Hyacinth Chiwerete Ugwuogbuke and other Royal Fathers here present, the servants of God, the Honourables, great Captains of industries and other institutions, and all the gentle ladies and men, who left other very important engagements to attend this 11th edition of BSOF Annual Scholarships Award and Poverty Alleviation program, with the theme: Empowering the Youth and Less Privileged to Shape Nigeria Future.
For sustained impact and change of paradigm, to secure the society, BSOF will continue to focus and seek partnership with organizations and individuals in the following areas:
Build a fit-for-purpose hostel for the People of Strength to enable them participate in the Skills Acquisition training at the Centre, as part of BSOF 360 programs for People Living with Disabilities.
Build hostel for the trainees to accommodate those coming from other communities and states
Build staff quarters for the Trainers and management staff
Build a modern conference hall for BSOF Annual Lectures and other activities, which are currently being carried out under canopies
Extend the Skills Acquisition Training and other programs to other rural communities in Nigeria
Continue to provide special rewards to diligent and dedicated teachers, and merit-based scholarships to public primary and secondary schools in the country
Continue to hunt for and develop special talents from the rural areas in the believe that an opportunity for one rural youth could transform the entire community and change the history of the family
And of course, to continue with our artificial limbs donation project, training of the youths and people of Strength in managing small scale businesses and monitoring/supervising the businesses of the recipients of the BSOF Start-up Capitals, among several other interventions to positively engage the minds of the vulnerable youths, women and other rural dwellers
To achieve these, we need your kind support in any way you prefer to partner with us to add value to the lives of the less privileged ones among us.
We will continue to count on you as we explore further opportunities to reposition the Foundation for the extension of its rural-based community activities and projects to other rural communities in Nigeria and beyond.
Barr. Sam. Chigozie Otoboeze, CPP, COHSM, FOSA-UK
PRESIDENT, BSOF
PROMOTING GRASSROOTS HEALTH INITIATIVES, AMIDST DWINDLING RESOURCES DURING COVID-19
Healthcare is a vital factor for the wellbeing of any given society. It is an essential component of a life of dignity. People languishing under diseases and illnesses can rarely hope for a high quality of life, and as we know, millions still suffer from largely preventable health issues.
Among major grassroots in Nigeria, several people suffer from poor healthcare, access to quality health centres and sensitization on several matters regarding their wellbeing and health. About 70% of Nigerians live in rural communities with little or no access to basic healthcare services. This population is mostly women and children, resulting in high maternal and infant mortality rates. Many communities in Nigeria travel long distances to access healthcare as most of the Primary Healthcare systems are no longer functioning. To address this, Barrister Sam Otoboeze Foundation, BSOF launched out its project on Free Medical Outreach for two days on the 18th and 19th of December, 2020. BSOF provided free basic healthcare services to a population of 578 people (men, women and the youths). The Medical outreach main focus was on men, women and children. Annually, about 25% of our relief materials and development projects have a significant health care component for the youths, women and children. You can find more information on our health care project, by following our website www.bsofoundation.org  and on all our social media platforms.
We have projects that deal on treatment or primary care, preventative measure, advocacy projects and so on.
BSOF strives to provide a healthy environment through community projects and outreaches, health promotions/ advocacy programmes for all the community/grass-root dwellers. On mental health promotion:
Caring for oneself and others
Making healthy decisions and taking control of one's life circumstance
Creating conditions that are conducive to health through policies, services, physical/social conditions
Building capacities for peace, shelter, education, food a stable income and sustainable development.
Healthcare and preventive services were provided in Ochima community for the individuals in and around the community to maintain their health and wellbeing. To assist in this purpose, make-shift health clinics provided several services aimed at educating the public on safety tips on prevention against COVID-19 and their personal health. Free consultations and drugs were administered to sick patients.
Picture 1.1 showing Dr. Obisike in the treatment area awaiting the patients to be attended to for the free medical outreach organized by BSOF. Dr. ObisikeObelu is the first Medical Doctor trained by BSOF. He devotes his time periodically to give back to the society by leading BSOF free Medical Outreach programs.
Fig 1.2     Patients queuing to be attended to by the team of medical experts led by Dr. Obisike.
EMPOWERING PEOPLE OF STRENGHT (PoS) IN RURAL COMMUNITIES TO BECOME SELF-RELIANT AND SUCCESSFUL ENTREPRENEURS
The People of Strength (PoS) otherwise also referred to as People with Disabilities (PwDs) are among Nigeria's most vulnerable community, who have enormous energy and strength but lacks the to opportunities and support to use their strength for their wellbeing, hence most of them survive through street begging for alms. The PoS generally have less access than others to education, health services, and sustainable livelihoods. About 74% of children with disabilities in Nigeria lack access to education, while 90% of grown adults of  working age persons with disabilities are unemployed
With Covid-19 pandemic widely spreading and shrinking businesses and creating harsher economic situation in Nigeria, the problems of the People of Strength have become aggravated. The business of street begging is no longer exclusively for the physically challenged. Unfortunately, while the number of street beggars in Nigeria is increasing exponentially, the population of alms givers is inversely dropping at the same high rate.
It was in an attempt to find solution to the worsening problems of the People of Strength that BSOF channelled more resources to empower not only the PoS but youths and women, who are increasingly joining the begging community. The Skills Acquisition program of Barr Sam Otoboeze Foundation has continued to strengthen and empower people of strength by increasing their entrepreneurship development skills and economic opportunities for self-sustenance, especially in the South-South, South-East , Northern and currently in the South –West States of Nigeria. BSOF free vocational skills training in bags making, beads-making, soap making, computer training has continued to incredibly restore hopes to the PoS, youths and women of Nigeria.
 BSOF ACTIVITIES IN THE LAST QUARTER
Conducted awareness training on the importance skill training for ….youths, PoS and women at Ochima in Igboetiti LGA of Enugu State
Sponsored youths, PoS and women vocational training in various skills including bag making, Tailoring and beads making, and donated food and other palliative materials to indigent rural women in Nigeria .
Donated Artificial limbs to over 40 persons in the North, East and South-South parts of Nigeria in the last quarter.
OTHER ACCOMPLISHMENTS
Identified and assessed the socio-economic situation of  6 PwDs and provided them with seed grants to start up their businesses
Enrolled 7 PwDs in vocational trainings, 5 of whom graduated and received small grants to establish businesses
Provided food items, safety material , face mask, hand sanitizers to over 400 PoS in Karmajiji community in the FCT
Conducted awareness/ sensitization sessions  on safety against COVI-19 for 400  PwDs  (196 males and 204 females.
Fig   1.3  Donation of food items to PoS from the North
Fig 1.4  A cross section of the Northern Nigeria beneficiaries from the BSOF End-of Year Artificial limbs support program before receiving the artificial limbs.
Fig. 1.5 A cross section of some Northern Nigeria beneficiaries from the BSOF End-of Year Artificial limbs support program after receiving the artificial limbs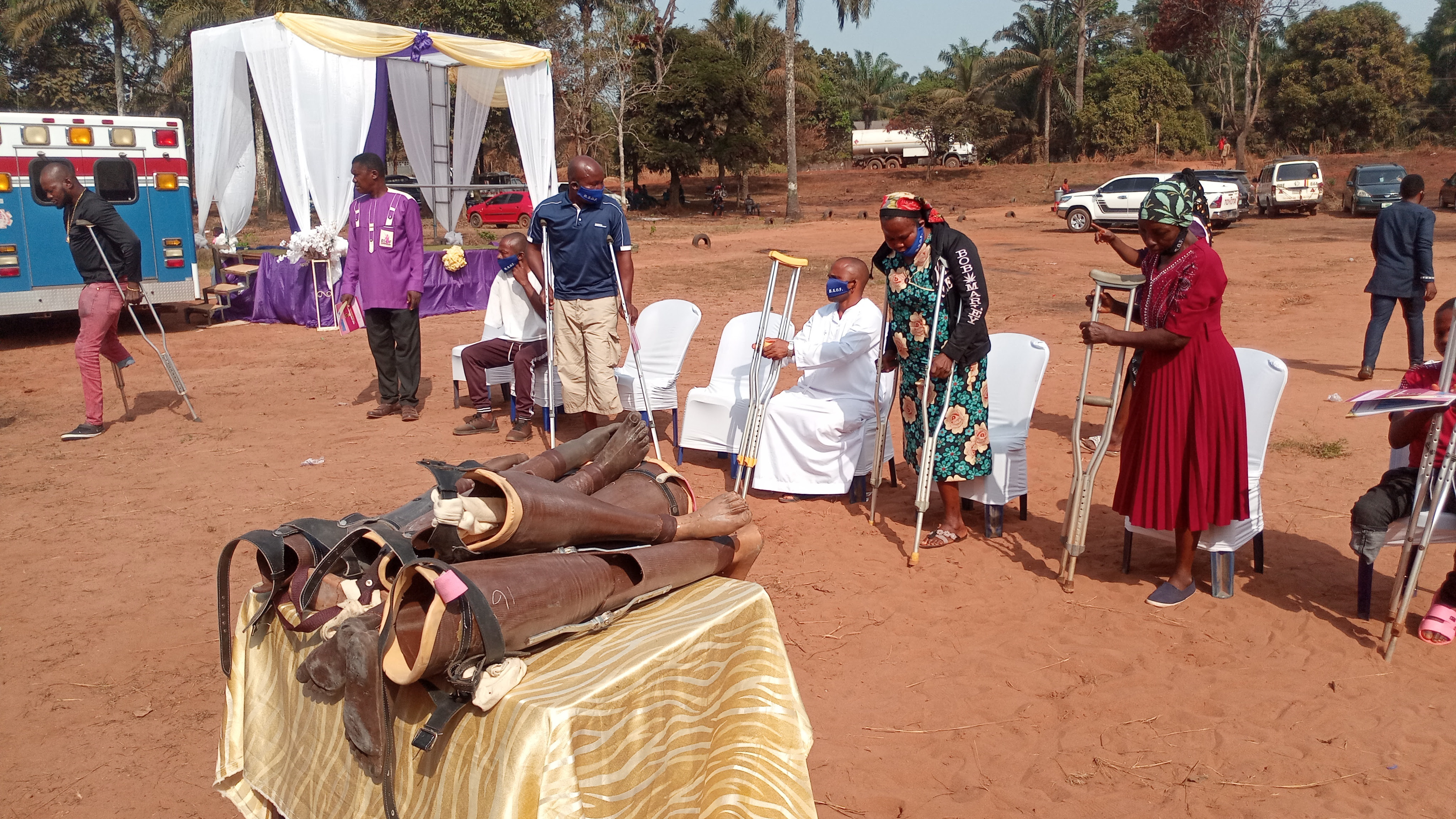 1.6  A cross-section of People of Strength from Enugu State getting ready to receive artificial limbs donation during the Dec. 2020 annual event of BSOF at Ochima.
 EDUCATION:  BSOF DONATES TEACHING AND LEARNING AIDS TO 6 STUDENTS IN PUBLIC SECONDARY SCHOOLS IN IGBO-ETITI LGA OF ENUGU STATE.
Considering the importance of education, especially as a way to improve living conditions of indigent families, BSOF provides various support to Nigerian students in local community schools. These include scholarship to specially gifted students, annual sports competitions, annual quiz competitions, donation of educational materials, among others.
As part of the 2020 annual event of the Foundation, Quiz competition was organized for ten(10) randomly selected public secondary schools located in the rural area of Igbo-etiti Local Government of Enugu State. The competition was used as a tool to select the next batch of scholarship awardees for 2021. At the end, BSOF offered scholarship to 6 best performing students, who lacked adequate school materials and found it difficult to pay their school fees. With these donations and the scholarships the beneficiaries are sure to complete their college education without any hindrance. Their performances in the school will certainly improve, while those who did not do well will draw inspiration from them. It also creates an opportunity for great and brighter future for them.
1.8 A cross-section of Secondary school scholarship awardees with materials donated to their schools by BSOF.
Fig 1.9 Students who represented ten (10)public Secondary Schools during the 2020 BSOF Quiz Competition at Ochima, Igboetiti LGA Enugu State.
There are several communities in Nigeria including Ochima with high illiteracy and school drop-out rate. This is due to many types of challenges being faced by several families due to their bad living conditions. Most of the community members make their living through farming and selling of some sort of vegetables, which they grow by themselves. This kind of economic activity gives them a very low income for their daily living. Parents are neither able to afford adequate school materials, nor pay their wards school fees.
BSOF's Solution
By providing the educational materials to these Public Schools poor students, BSOF will improve their opportunities in life and develop their study smoothly. Also, they will gain more confidence to attend school and start to enjoy learning. This project also helps and motivates students to attend school more regularly and step by step the high illiteracy and school drop-out will decrease.
Long-Term Impact
In the long run, by providing educational materials to support these Public Schools in Igbo-etiti Local Government Area of Enugu State, the over 10000 indigent students will have better access to quality education which in turn increases their opportunity for a higher level of education in their life. The high illiteracy and dropping out of school rate will decrease and their community can develop by having educated citizens. In this way, BSOF does not only make a difference for the individual families; more promising and brighter future is being created for the various rural communities in Nigeria
When the Foundation, took up the sponsoring of one young and highly brilliant child of a peasant farmer from a neighbouring community of Ukehe in Igbo-Etiti LGA, to study Medicine at the UNN few years back, it was never hoped by the parents that one day the boy would own one of the biggest medical centres in the Local Government.
Today, the story of both his family and community has changed!
Fig 1.10 A cross-section of students from different public secondary schools in Igbo-Etiti LGA present at the BSOF 2020 Quiz Competition.
BSOF PUBLIC LECTURE: EMPOWERING THE YOUTHS & LESS PRIVILEDGED TO SHAPE NIGERIA'S FUTURE
A major aspect of the Barrister Sam Otoboeze Foundation (BSOF) developments projects is in Skills Acquisition and advocacy towards acquiring vocational skills particularly amongst the youths, women and men.
In this regard, the last year's BSOF Annual event was themed, "Empowering the youths & Less privileged to shape Nigeria's future". Two prolific and renowned speakers of whom one Prof. Patrick Ngwu is currently a lecturer at the University of Nigeria, Nsukka (UNN), while the other facilitator was Dr.Okon Etim Okon, also a Snr Lecturer at the UNN
In attendance at the lecture, were a total of88 students from 10selected public secondary schools in Igbo-Etiti LGA,(17 women and men from different communities in Igbo-Etiti LGA. The public lecture was held at the nick of time, as there is a dire need for people to learn various entrepreneurship skills to support themselves especially in these times of huge economic challenges and serious unemployment and under-employment in the Country.
The facilitator reiterated the relevance of youths acquiring vocational skills to prepare them for the challenges of high unemployment and over dependence on government or white collar jobs. The training session was quite interactive and gave room for questions from the participants.
Fig 2.0  Barr Sam Otoboeze (left) Prof. Pat Ngwu (middle) a female guest (right)during the public lecture on the importance of skill training to the youths.
Fig 2.1 Mrs Mercy Odu ( Financial Director  BSOF, left), Barr. Sam Otoboeze (the President) second left) Dr. Okon Etim Okon (Lecturer at UNN) and the Quiz Panelist (right)
Fig  2.2  A cross- section of students and community members in attendance at the public lecture on Skills training programme.
TESTIMONIALS
"Not what we give, but what we share, for the gift without the giver is bare" Anonymous
Barrister Sam Otoboeze prides itself with the fact that her several grass root projects touch lives and gives hope to the hopeless, as was the story of Mrs. Mary Ugwuanyi from Umuagama, Essodo Ward Two, Igboeze North LGA . She is one of our recent beneficiaries of the artificial limbs donation in December, 2020. While the Director Special Duties (Hon. Emeka Abugu) was making transport arrangements for the already pre-selected people of strength who were meant to leave Enugu for Port Harcourt that fateful day for the Artificial limbs donations project in Port Harcourt where their limbs were to be produced and presented. Mrs. Mary Ugwuanyi came to the park to beg for alms and went on her normal business of begging for alms when she encountered the Director Special Duties and Projects as potential client whom to get pennies from for the day, but luck shone her way and he offered her more than just the pennies but artificial limbs, she could use to walk freely rather than the crutches she came begging with. She was put in the vehicle and transported to Port Harcourt with the other beneficiaries, where arrangements for their short stay accommodation, feeding had all been arranged by the BSOF Team.
During the BSOF Annual event on the 19th December, Mrs. Mary Ugwuanyi was moved to tears as she received the artificial limbs donation from the President of the Foundation.
Fig  2.3    Beneficiary: Mrs. Mary Ugwuanyi from Umuagama, Essodo Ward Two, Igboeze North LGA.
| | |
| --- | --- |
| You can help us reach so many more people; all it takes is your donations. | |

                            Barr. Sam. Otoboeze CPP.

  FROM THE PRESIDENT'S DESK
This maiden edition of  the BSOF Quarterly Newsletter is another important landmark  of the Foundation since it's formal  birth more than 10 years ago. The Foundation which started as a pet Charity project to mark my graduation in 1989, has gradually metamorphosed into a major Non- Governmental Organization in Nigeria, with very remarkable presence and testimonial projects spread across the country.

The secret  behind the success of BSOF  has remained the ability to live out its mission of Giving hope to the hopeless and its mantra; Sam. O Foundation…where,here,there and everywhere! BSOF has been truly there and everywhere in the education of indigent pupils and students across the country; sheltering the widows and aged, providing artificial limbs to amputees, providing skill training for the youths, and palliatives to the under-privileged across the states of Nigeria.

All these would not have been possible without the active support  of the Board of Trustees, Management and members of the Foundations in Abuja, Lagos, Port Harcourt and Enugu branches.

I wish you happy reading and will appreciate your comments and further contributions.

Barr. Sam. Otoboeze, CPP. 

 

   BOARD OF TRUSTEES
The Board of Trustees are highly respected and trusted personalities who have supported the foundation morally in realizing its dreams and this has

revolutionized the foundation to its present credible level.

1. Mrs. Uchenna Otoboeze                        4.Barr.G.O Okafor OON, SAN     
     (BSOF Vice President)                                                      (Member)
2. Rev Father Eva C. Nnaneme                        5.HRH Igwe Christian Eze 
                 (Member)                                                                  (Member)
3. Prof. Ngozi Ada Ejionueme                 6. Prof. Isife  ( UniPort)

(Member)                                                                  (Member)

A time for hope
Giving hope to the hopeless

In the last several months, the world has seen a progressive rise in public health emergencies, leading to an increased need for humanitarian aid and relief. A lot of people have been through several difficult situations all over the world.
Nigeria not being left out has also suffered from the scourge of food crises caused by poverty.
Have you ever imagined a time when everyone can meet their needs without having to be financially challenged or dependent on anyone dependent on anyone, BSOF finds fulfillment in giving hope to the hopeless.

Project Hope: Palliative distribution

programme to the less privileged to cushion the effects of Covid-19

Palliative distribution at a physically challenged community, Karmajiji in Abuja FCT.

"Hope is important because it can make the present moment less difficult to bear.

If we believe that tomorrow will be better, we can bear a hardship today. We must accept finite disappointment, but never loose finite hope"
-Martin Luther King Jr.
Project Hope palliative care provided relief materials to over 1000 daily income earners in the poorest communities across several states in Nigeria: FCT, Enugu, Ibadan, Port Harcourt, and Lagos.

a) In Port Harcourt, on the 15th of April, BSOF members generously donated large relief materials to a group of widows, aged people and provided scholarship to a particular young boy whose family had just suffered a tragedy after the

bread- winner the mother a (plantain seller) was brutally murdered by unknown people in the farm, while she had gone to get plantain for her business.
 She died leaving behind a critically sick and disabled husband and her

four children. Moved to compassion by their story, the BSOF President

immediately offered the first son full scholarship to continue his education.
b) On the 1st of May 2020 in a remote community in Abuja called Karmajiji, deep in the community a settlement of people living with disabilities (PLWD) were visited. BSOF teams carried out distribution of the palliatives to the disabled
 c) A similar event was conducted in Ibadan and Lagos States respectively where a cross-section of over 400 women, men and some youths received palliatives to help alleviate their sufferings.

d) Enugu state carried out a palliative outreach to an  orphanage as well. Food items and other relief materials were distributed to over 300 children. They were also sensitized on the need to maintain personal hygiene guidelines as proper hand washing techniques were thought in a bid to curb the spread and infection of COVID-19.

2019: Annual BSOF Event-
IYEP Beneficiaries

Over the years for the last decade, the Barrister Sam Otoboeze Foundation has

held an annual event where thousands of people from all over the country gather to celebrate and at the same time, extend their benevolence and goodwill

by impacting the lives of people living in Ochima community as well as it's surrounding communities.
BSOF is an organization that is in direct response to the growing number of rural youths and the disabled that has lost hope in the system or themselves.
Inclusive Youth and Entrepreneurship Programme (IYEP) was targeted towards eradicating extreme poverty, especially in the rural communities by

reducing poverty among men and women in the rural communities.

After an extremely rigorous selection process three finalists emerged as winners/ beneficiaries of the programme.

Lets meet our beneficiaries:

IFEANYI CHUKWURAH- IFYMOTO
Ifymoto is an agro- based processing company focused on solving the problems of perishables food glut, post-harvest losses, food wastage, unemployment and poverty by increasing the shelf-life of perishable food commodities in order to achieve food security while making room for farmers to increase their productivity/incomes and creating opportunities for job creation. This beneficiary won the first prize of N500,000



OGUNSEYE BABATUNE- AGRIMAX
AGRIMAX is committed to provide unquestionable, adaptable and cost-efficient alternative sources of animal protein for meal and feed to keep a sustainable framework, we breed high quality insects in dependable yields.
This beneficiary won N300,000
Products:

Magg meal
Magg Oil
Magg humus

ERIC NYIKWAGH—AGRIWAVES TV
Agriwaves TV (ATV) is a digital television that provides information on innovations and opportunities in the food and agriculture industry. 
ATV connects farmers, value chain actors and the public.
ATV is available online as a YouTube channel, mobile app and website. He won N100,000

TESTIMONIES FROM BSOF BENEFICIARIES

Dear Sir,
I want to sincerely express my gratitude to BSOF for deeming it fit to present me an award. I make no light of it. It is a pleasure and indeed an honour to hear once again from the Barrister Sam Otoboeze Foundation.
So far, I have added two more product lines to my production portfolio; namely

Processed chilli pepper and
BSF larvae (an alternative protein solution for livestock farmers) in addition to my processed habanero pepper.

I have also employed over six direct and indirect staff in the last six months. In addition, recently I distributed free facemasks to mitigate and help prevent the spread of COVID-19 pandemic.
Also, I have been nominated among the top 25 innovators in Africa for the Next Einstein Forum (NEF) organized by the African Institute for Mathematical Sciences (AIMS) who are billed to showcase their businesses at the Global Gathering of the NEF in Nairobi, Kenya later this year.
 
In addition, my business is currently being incubated by at the Orange Corners Nigeria (OCN) Business Incubation Program, which is being funded by the Government of Netherlands and implemented by FATE Foundation
My challenges however, are supply chain problem owing to COVID-19 pandemic but I'm well positioned to reinvent myself, and business Post- COVID.
IfeanyiChukwurah, BSOFBeneficiary for IYEP 2019.
Mrs Uchenna Otoboeze ( VP

BSOF

)
GOODWILL MESSAGE FROM THE VICE PRESIDENT'S DESK
In this second edition of the BSOF Newsletter, I take the special privilege to honour the women folk, whose contributions in the society and homes make them the epicenter of activities. I also use the same opportunity to pay tribute to the women in our society at this special event of the celebration of Women and Youths Skill Training Initiative Program (WYSTIP), which holds on November 1st 2020.
In BSOF we spend substantial resources and time at our disposal to carter for the women, especially the widows and the girl youths. The most challenging problem faced by widows is that of accommodation and their children's welfare. This is why BSOF builds and donates houses to widows, annually in rural communities, and provides skill training opportunities for women, girl-youths along with boys and people of strength (persons living with disability). There is no doubt that acquiring some skills training by this category people in the society is the best way to survive the socioeconomic challenges of unemployment, hunger and deprivation during and after Covid-19 pandemic.
Our Skill Acquisition Centre at Ochima, Igboetiti LGA of Enugu State, remains open to any woman, youth and person of strength from any part of Nigeria, irrespective of tribe or religion, at no cost. We are currently starting a special training program for 50 women, girl youths, boys and persons of strength in Nigeria. I therefore invite all members within the target group to take advantage of the program to acquire life-saving skills at the BSOF Skill Acquisition Centre
Sam. O…Foundation! Sam. O…Foundation!! ….Where? Here!  There!! …And, Everywhere!!!
DESIGN THINKING TOWARDS ENTREPRENEURSHIP SKILLS AND NATIONAL DEVELOPMENT
Design Thinking is a process for creative problem solving. It critically has a human centered core. It encourages organizations to focus on the people they are creating a product or a service for, which leads to better product, services and internal processes. It is an interative process in which we seek to understand the user, and redefine problems in an attempt to identify alternative strategies and solutions that might not be instantly apparent with our initial level
of
understanding. At the same time, Design Thinking provides a solution-based approach to solving problems. It is a way
of
thinking and working as well as a collection
of
hands-on methods.
In recent times, the efforts to contain the spread
of
COVID-19 are taking a major toll on global economy, forcing businesses to shut down, cut jobs, reducing workers' ability to go to work, and place an extra burden
of
care on parents and particularly on youths. There is therefore a huge demand and focus on youths developing certain skills or skillset to enable them remain employable or earn a living outside a normal circular job. Therefore, the need for skills acquisition and entrepreneurship development to sustain a healthy nation. Hence, design thinking is relevant in getting into the minds
of
the type
of
customers they intend to target.
Design Thinking also involves ongoing experimentation: sketching, prototyping, testing, and trying out concepts and ideas.
Humans naturally develop patterns
of
thinking modeled on repetitive activities and commonly accessed knowledge. These assist us in quickly applying the same actions and knowledge in similar or familiar situations, but they also have the potential to prevent us from quickly and easily accessing or developing new ways
of
seeing, understanding and solving problems.
The Skill Acquisition Centre which was commissioned in 2017 by the Former Deputy Senate President, Sen. Ike Ekweremadu, on behalf
of
the Enugu State Governor, currently produces an average
of
200 bags per month and turns out an average
of
ten skilled producers every year. It has the capacity to train up to 3000 yearly, under the Train-the-Trainers Scheme, when fully developed.
The Covid-19 pandemic has no doubt worsened the national and global economic crisis and made things more difficult for women and youths. With the projected 39.6million job losses in Nigeria due to Covid-19, the socio-economic situation
of
the women and youths will certainly be aggravated, as more people, especially women and youths will become jobless and increased pressure for daily essential needs on the mothers.
Design Thinking revolves around a deep interest in developing an understanding
of
the people for whom we're designing the products or services. It helps us observe and develop empathy with the target user. Design Thinking helps us in the process
of
questioning: questioning the problem, questioning the assumptions and questioning the implications. Design Thinking is extremely useful in tackling problems that are ill-defined or unknown, by re-framing the problem in human-centric ways, creating many ideas in brainstorming sessions, and adopting a hands-on approach in prototyping and testing.
At the Skills centre, these women and youths are taught how to design products (bags, belts and other fantastic leather works absolutely putting in mind the needs
of
the customers. This strategy enables
BSOF
Skills Acquisition Centre to turn out high quality products and at the same time empowering the youths to build their own businesses and hence, earn a healthy and worthy means
of
livelihood.
BSOF
strategy and message to the youths and nation as a whole is to essentially equip themselves in skills education; and
BSOF
message to other individuals, organizations, and the government is to invest thoroughly in developing a tradition
of
engaging youths and mentoring them to acquire skills in addition to a formal education and if perhaps uneducated, an informal education is advised.  This will meaningfully contribute towards reducing the socioeconomic impact
of
Covid-19. During one
of
our Sponsorship/Partnership meetings with the Small and Medium Enterprise Development
of
Nigeria (SMEDAN) Deputy Director Baba Ibrahim said, "If all Nigerians could be like
BSOF
, and do as much as we are doing by reaching the hopeless, providing skills training for the women and youths inclusive
of
the physically challenged persons; then Nigeria would certainly be a better place".
BSOF

Skills Acquisition Training Centre -Ochima Enugu State
Variety

of

quality bags produced at the

BSOF

Skills Centre
                         CALL TO ACTION.
"Skills training for 50 rural women in Nigeria" 
Anukwu Rosemary is 29 years old and a person living with disability (PLWD). She is one out
of
the several beneficiaries
of
the free skills training program
of
Barrister Sam Otoboeze Foundation (
BSOF
), who was assisted with an artificial limb and a small scale business take off grant
of
N50,000(about $115) in November, 2019 to start up her own tailoring business. Today, Rosemary has a successful business in Delta State
of
Nigeria and is currently engaged to be wedded in October, this year. This is one
of
the several
BSOF
's free skills training programs that returned 360 degrees success in touching and
…giving hope to the hopeless.
At BSO Foundation, our first priority is making sure we're able to provide widows, other women, young girls, youths and people living with disability the tools they need to learn, grow and becomeeconomicallyindependent.
In this September,
BSOF
needs to raise $50,000 to be able to achieve our goal
of
training 50 Nigeria women and youths in our Covid-19 for-ever palliatives program tagged 'women, youths skills training initiative project' (WYSTIP).There is no doubt that acquiring some special skills training by this category people in the society is the best way to survive the socioeconomic challenges
of
unemployment, hunger and deprivation during and after Covid-19 pandemic. In
BSOF
we are determined to turn the Covid-19 pandemic challenge into a blessing for some socioeconomically disadvantaged women, girl-youths, boys and Persons Living with Disabilities in Nigeria
If we can get just 50 individuals, private organizations, NGOs to donate only $1000 each or 25 organizations to donate just $2000 each, we shall have raised enough money to permanently change the socioeconomic situation
of
not only 50 persons in Nigeria but another 50 dependents! Even gift cards
of
$100 each by only 500 persons will create the same miracle! A complimentary contribution
of
$10, $20 etc will also go a long way in our fundraising goal for the WYSTIP project to enable 50 women, widows, youths and persons living with disabilities in our midst to realize their hopes and aspirations. These women deserve a decent meal, and a decent job to put food on their tables. As a leader in your organization, private businesses you are an important part
of
our fundraising campaign. You no doubt understand the pressing need for solutions to the rising cases
of
hunger, insecurity, joblessness and various crimes in Nigeria. At
BSOF
, our efforts to solve this problem will not be enough without your very support! We'd love to invite you to team up with us to help make a difference! No amount will be too small!
Your generous donations can be done through the following GlobalGiving funding platform:
https://www.globalgiving.org/projects/skills-training-for-50-rural-women-in-nigeria/
GlobalGiving is the largest global crowd funding community connecting nonprofit, donors and companies in nearly every country. Funds and donations will be raised effective 14/9
through the above link to support the training
of
50 women at our Skills Acquisition centre.Thank you for being part
of
this great project
of
Giving Hope to the Hopeless at this most trying period especially among less privileged women, youths and persons living with disabilities in Nigeria. Your kind donations will certainly make the difference.
Rosemary Anukwu at her business space(

BSOF

Beneficiary)
Rosemary making a dress

PEOPLE LIVING WITH DISABILITIES (PLWD) ARTIFICIAL LIMBS DONATIONS AND EMPOWERMENT PROJECT
Barrister Sam Otoboeze Foundation (
BSOF
)
The foundation whose sole aim and targets are to aid and support the poor and needy within and beyond her immediate environment, has impressively progressed on her quest in humanitarian affairs without any form
of
political agenda.
According to The United Nations Convention on the Rights
of
Persons with Disabilities (CRPD) promotes the full integration
of
persons with disabilities in societies. The CRPD specifically references the importance
of
international development in addressing the rights
of
persons with disabilities. One billion people, or 15%
of
the world's population, experience some form
of
disability; and disability prevalence is higher in developing countries. One-fifth
of
the estimated global total, or between 110 million and 190 million people, experience significant disabilities.
However, the past and present contribution
of
Port Harcourt branch to
BSOF
foundation cannot be over emphasized as the branch has contributed immensely to the growth
of
this noble foundation from its inception and has undergone several projects involving physically challenged persons. Physically challenged persons are more likely to experience adverse socioeconomic problems due to various obvious reasons including but not limited to poor education, poverty and so on.
In 2017, fourteen (14) Persons Living with Disabilities (PLWD) were beneficiaries
of
artificial limbs. This was done primarily to facilitate their movement and also empower them to make honest living for themselves rather than being beggars on streets.The outcomes
of
the People
of
strength Empowerment Programme (PSEP) is to reduce the impact
of
stress involved and socio-economic difficulty that comes with disabilities, such as less education, poorer health outcomes, lower levels
of
employment, and higher poverty rates. The 2030 Agenda for Sustainable Development clearly states that disability cannot be a reason or criteria for lack
of
access to development programming and the realization
of
human rights. The Sustainable Development Goals (SDGs) framework includes seven targets, which explicitly refer to persons with disabilities, and six further targets on persons in vulnerable situations, which include persons with disabilities. The SDGs address essential development domains such as education, employment and decent work, social protection, resilience to and mitigation
of
disasters, sanitation, transport, and non-discrimination – all
of
which are important areas
of
work for the Barrister Sam Otoboeze Foundation. The Foundation did not only provide artificial/prosthetic limbs to the PLWD but also during our People
of
Strength (PSEP) event, several beneficiaries were awarded cash donations to enable them start-up small and medium scale businesses. As COVID-19 continues to have wide-reaching impacts across the globe, it is important to note how persons with disabilities are uniquely impacted by the pandemic, including health, feeding, and transport.
In the area
of
health, many persons with disabilities have additional underlying health needs that make them particularly vulnerable to severe symptoms
of
COVID-19, If they contract it. Persons with disabilities may also be at increased risk
of
contracting COVID-19 because information about the disease, including the symptoms and prevention, are not provided in easily accessible formats. It was in this regard that BSO Foundation paid a visit to the settlement
of
PLWD's in Abuja. They were properly sensitized as well as given relief materials to enable them lead more comfortable lives and fend for themselves.
PEOPLE

OF

STRENGTH EMPOWERMENT PROGRAM (PSEP) BENEFICIARIES
MONITORING & EVALUATION (M & E) VISITATION
During the last
BSOF
Annual Event, four Persons Living with Disabilities (particularly Amputees), were awarded seed grants to help them start-up small business and improve their living circumstances.  The four beneficiaries are:
Ms. Ukamaka Ojinalokwu
Mr. Ugwuoke Gabriel
Mr. Chukwudi Azegba
Mr. Simeon Ezugwu
Ms Ukamaka Ojinalokwu is a 27 years old young woman, who is currently the bread-winner of her family of five inclusive of her aged parents. BSOF awarded her with a seed grant of One Hundred Thousand Naira only (N100,000). She started a tailoring shop and from her daily business, she now supports herself and her family members.
Mr. Ugwuoke Gabriel is a 46 years old father of four, who is also one of the beneficiaries of the One Hundred Thousand Naira (N100,000) seed grant given to the People of Strength Empowerment Programme (PSEP) by BSOF. Mr. Gabriel started a palm oil producing company, from the cash award, he purchased a machine extracting the oil from the palm fruits and also the palm kernel producing both palm oil and palm kernel oils.  With this hard work, his family has daily source of income and food on their tables.
In addition to these success stories of these two beneficiaries who used their seed grants properly. The other two beneficiaries (Mr. Chukwudi Azegba and Mr. Simon Ezugwu) sadly, misused their own seed grants. They had nothing to show from the monies awarded them, but rather gave several excuses on the current situation in the country as a result of COVID-19.
BSOF

SPECIAL
SCHOLARSHIP PROJECT
Sam Chibuzor is one
of
the several beneficiaries
of
the Barrister Sam Otoboeze Scholarship Program. His story comes with a bitter-sweet memory as it was during the lockdown imposed by most states in Nigeria while
BSOF
was reaching out to support several families in poorest communities with relief materials that he was met. This particular outreach was in a local community church in Port Harcourt where someone mentioned a boy whose mother was killed by some unknown people after she had gone to her farmland to harvest some plantain for her daily business.
Unfortunately, that was the last time she was seen alive as her corpse was found later in the bush. She died leaving behind her unemployed sick husband and three sons. Sam the beneficiary was her first son who had no other means to continue his education. Then luck shone his way, when the matter was brought to the knowledge
of
the President
of
Barrister Sam Otoboeze Foundation. On hearing the sad tale, the President swung to action immediately to provide for her first son, Sam who, coincidently, is his namesake. Sam was offered scholarship all through his primary and tertiary level.
"A good head and good heart are always a formidable combination. But when you add to that a literate tongue or pen, then you have something very special" – Nelson Mandela
Barrister Sam Otoboeze Foundation under the auspices
of
the Founder and President has given this boy hope and something to truly look forward to: An Education!
The pictures above shows Sam with his father (right) and Sam in a group photograph with

BSOF

Port Harcourt members (left)
TESTIMONIALS

OF

BSOF

BENEFICIARIES
360 DEGREES TURNAROUND
Anukwu Rosemary Isioma is a beneficiariary
of
the free training program
of
Barrister Sam Otoboeze Skills Acquisition Centre in Ochima Enugu State. Her strong desire to learn how to make dresses and beads making was rralized  through benevolence showed to her and several other women and youths inclusive
of
the People Living with Disability (PLWD). Rosemary is an amputee who was assisted with an artificial (prostethic) limb and a small scale business take off grant
of
N50,000 (about $115) in November. Intrestingly, today Rosemary has a successful business in fashion and designing and beads making.
Her bead making business has provided her multiple streams
of
income, where she not only makes the beads and sells but also rents them to customers as wedding adornments/ ornaments for their marriages. The 360 degrees complete circle  is almost completed as, Rosemary is engaged to be married in October 2020.
Her beads making business
THANK YOU NOTE!
I would want to express my gratitude to God and the entire editorial team with special reference to Rev Fr, (Dr) Eva Chuma Nnamene MEMBER BOARD OF TRUSTEES, Mr. Joseph Agaga( ICT Specialist),Mr. Emmmanuel Ezea (Abuja member), Mr Alvin Nonso(Lagos member) Mr. Chuka Emeka (Enugu member & Hon Pastor Emeka Abugu Enugu member)  Mr. Ogwu Chukwuma(Port Harcourt member), and Ms Agbenu E Okibe (O.M National Office Abuja). Thank you for your valuable support in esuring the success of this edition.
During the youth empowerment scheme and scholarship award organised by Barr Sam Otobeze foundation at ochima in Igbo Etiti LGA. Enugu state. The President of the foundation Barr Sam Otobeze explained that when youths are occupied with profitable business ventures, they won't have time to commit crime. According to him youths are vulnerable unless they build their personal security through human empowerment.
" The moment you start thinking and projecting your business. You won't have time for crime. Youths should reduce agitations. They should think inwards. Everyone has potential to become unique and successfull. Let's not look for cheap means and crime. Any way they can use their head, use their hands, there are lots of opportunities, but we are not patient enough to look deep and discover them. Instead looking for quick fix, where is the money. No, life is not like that. They should come down, bend down, look for opportunities within their area. And then take it from there".
While delivering her goodwill message the Enugu state commissioner for finance and economic development. Mrs Eucharia Offor urged the youths to lay good foundation for their future by Preparing today for better tomorrow.
" It is encouraging our youths to become productive. Now that they are busy, they won't be distracted by idleness. Not everyone will do white collar jobs. Some are better in starting their business. Youths should engage in something that will benefit them and their families."
In his contribution the former Enugu state commissioner for local govt matters. Chief okey Ani advised youths to embrace humility, patience and wisdom.
" Most important is humility, these days we don't have humble youths. Another thing is patience. They are all in a hurry. They want to get rich quick They want to reach destination without making steps forward. And when you fly without wings. You break your leg. So I urge them to be patient take it easy, work hard and you will get there".
Meanwhile the director general Nsukka chamber of Commerce, industry, mines and agriculture Dr Dan Ochi described skill acquisition as essential tool in tackling unemployment.
" lf you are busy working, you will be concerned with adding value to yourself and family instead of causing trouble. When you have goals and personal development plans, you will be focused and won't have time and energy to waste in negative actions"
Well, instead of waiting for government to satisfy all their needs, youths should wake up and take charge of their destiny. The traditional ruler of Idoha in Igbo Etiti LGA igwe Christian Eze has this to say.
" Since Government cannot give all. Relying on self employment is reasonable. To empower the youths so they build their lives".
The occassion featured the presentation of cheques as startup capital to beneficiaries of the scheme
Some of the beneficiaries expressed their gratitude
Emeka Abugu -" its a kind of self employment. Instead of being jobless and staying at home. It is better to find opportunities through skill acquisition programmes. Victor Enebechi " instead of staying at home wasting time and talent. You find something doing. Gradually from low level, you attain great height".
Capturing the moment the coordinator of Barr Sam Otobeze foundation and former Enugu state commissioner for Chieftaincy matters Pastor Emeka Abugu described youth empowerment as solution to peace and security in the land.
"It is a way of bringing peace to the community by empowering people to earn their living. Improving their financial fortunes and turning them into employers of labour. Youths should be responsible and follow due process to reach their goal".
The Nigerian Army has invited eligible Nigerians to apply for the Short Service Combatant (SSC) Commission course 45/2019 and Direct Short Service Commission (DSSC) course 24/2019.
Legit.ng reports that a statement on the Facebook page of HQ Nigerian Army, revealed that the applications open to only serving military personnel (sponsored by any of the services of the Nigerian Armed Forces to civil institutions) and civilians were announced October 19, in newspaper adverts.
It was gathered that the submission of all applications are expected to end on November 30.
The statement read: "Applications are invited from eligible Nigerians for commission into the Nigerian Army (NA) as Short Service Combatant (SSC) commission offcers. The SSC is open to both civilians and serving military personnel.
"However, only serving military personnel sponsored by any of the Services of the Nigerian Armed Forces to civil institutions shall be considered.
"All applicants must satisfy the following conditions: Be a Nigerian as dened in the constitution of the Federal Republic of Nigeria. Be a male or female between the ages of 23 and 27 by January 2019. Be medically, mentally and physically fit according to NA tandards. Be recommended by at least 2 recognizable referees who must attest to the applicant's character and integrity. Serving military personnel must be recommended by their commanding officers.
"Civilians could be recommended by a local government chairman/secretary or an officer of the Armed Forces not below the rank of a Lieutenant Colonel and equivalent or an Assistant Commissioner of Police and above who must hail from the state of the applicant. Passport photographs of referees must be affixed to the letter of attestation.
"Candidates must submit a Letter of Attestation from their former institutions. Measure at least 1.68m (for male) and 1.65m (for female) in height. Must not have been convicted by any court of law. Military personnel must be free from any disciplinary case (This is to be endorsed by the Commanding Officer/Commander).
"Possess at least a first degree with not less than Second Class Lower Division or HND of not less than Lower Credit in the arts, sciences or humanities from any recognized institution of learning. Possess valid birth certificate endorsed by the National Population Commission, Hospital or Local Government Council or valid age declaration.
"Possess a valid certificate of state of origin. Applicants (other than serving members of the Armed Forces) must possess NYSC discharge certificate or a valid certificate of exemption as the case may be.Only academic credentials obtained from 2013 to date will be considered.
"Candidates must present contact addresses and telephone numbers of parent/guardians and Next of Kin. Candidates must not have any body inscriptions or tattoos. Candidates must tender all original copies of educational certificates (primary to post-secondary).
Service personnel must present valid military identity cards and letters of recommendations by their Commanding Officers/Commanders. They must also present valid letter(s) of NA sponsorship in tertiary academic institutions. Additionally, they must have served for a period of not less than 5 years in the unit.Candidates must not be members of any cult/society/fraternity.
Conditions of services
"SSC will be granted for 15 years. Ten years will be on active list renewable thereafter for a period not more than 5 years. No extension shall be granted after he fifteenth year of commission except on conversion to regular combatant commission where applicable.
"Officer cadets who successfully complete the military training shall be granted the rank of second lieutenant. Conversion to regular combatant commission is not automatic. It is based on availability of vacancy and other criteria that are or will be in force from time to time.
"All graduating officer cadets must sign an acceptance on the terms and conditions governing the Short Service Combatant Commission before they are granted commission into the Nigerian Army. The reckonable period of service will be based on the date of commencement of cadet training of both civilian and military personnel entrants.
Method of application
"Applications are to be made online free of charge from the 19th of October 2018. Log on to www.nigerianarmyms.ng to create an account. Read the qualification criteria. From the home page, select SSC application. On successful registration, you will receive an email notification containing your login details. Click on 'Login' to complete the application form.
"Ensure all required documents are uploaded: Passport photograph. Educational certificates. Evidence of membership of any professional body. Certificate of state of origin. Birth certificate or age declaration. Applicants must print out their online generated photo-slip on completion of their application.
"The first page is to be signed by a Court of Law while the second page is to be signed by the local government chairman/secretary or any military officer of the rank of Lieutenant Colonel or equivalent and above who hails from your state. Successful applicants would be required to present their printed photo-slips to the selection board during interview.
Closing date
"All applications must be submitted not later than 30 of November 2018.For further information, you may call 0817 926 9294 and 0811 888 1694, or visit www.army.mil.ng.
Meanwhile, Legit.ng had previously reported that the Nigerian Army's Training and Doctrine Command (TRADOC) commenced promotion examination in Sokoto for 150 captains moving to the rank of major, from different military formations across the country.
Nigerian Air Force Day Celebration 2018 (54th Anniversary) | – on Legit.ng TV